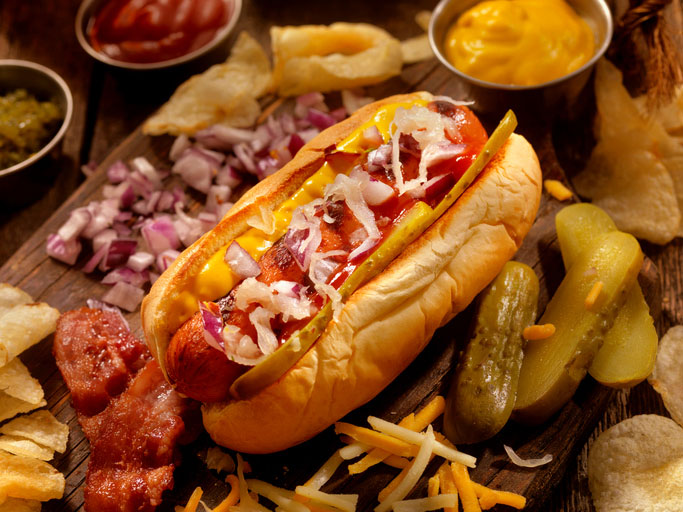 When it comes to food, it doesn't get any more all-American than the hotdog. In Fairfield, CT, a local institution has taken this snack time staple to legendary heights. Let's take a closer look at the iconic Rawley's Drive-In.
Going strong since 1947
Rawley's Drive-In first opened its doors to New England snackers in 1947. With its unforgettable food and distinct and impeccably preserved retro vibe, this shack has stood the test of time.
Housed in a small red clapboard building, Rawley's hasn't changed much in the past half century or so. With graffiti-scribbled walls and low-key wooden tables and chairs, it feels stuck in time, a distinct appeal that Rawley's Drive-In deliberately embraces.
Just like the space it occupies, Rawley's Drive-In keeps its menu straightforward. And perhaps that's the secret – in a world that moves at a blazing pace, sometimes the simple pleasure of a hotdog on a toasted and lightly buttered bun can prove the greatest of all pleasures.
At Rawley's the hotdogs are first deep fried before being put on the grill. The result is a crisp-skinned frank that explodes with flavor with each bite.
Rawley's sources its franks from New Haven-based Hummel Bros. and the freshest rolls from Chaves Bakery based in Bridgeport, making each sandwich you bite into a genuine New England experience.
The hotdog of the stars
The Rawley's Drive-In signature offering is "The Works," which throws mustard, relish, kraut, and bacon into the mix. This is the hot dog that Martha Stewart has proclaimed her favorite – a nod of approval that Rawley's proudly displays on one of its walls.
Through the years, Rawley's has gained quite a few celebrity fans, including Drew Barrymore, John Malkovich, and Paul Newman.
If you want to try other hotdog combos, there are chili and cheese-covered versions of the sandwiches, as well as a variety of burgers, grilled chicken sandwiches, and tuna sandwiches.
If you want to try something different, the creative cooks behind the Rawley's counter also have your back. Exclusive Rawley's specialties include:
The Hot Chihuahua – The signature Rawley's hotdog topped with a homemade hot relish
The Combo Grinder – A Hummel Bros. frank topped with a grass-fed beef burger and crunchy onion rings
The Mexican Burger – 100% grass-fed beef burger topped with jalapenos, hot pickles, onions, lettuce, and tomato
For the perfect complement to your meal, you can order an indulgent milkshake or malt – available in "The Usual" chocolate or vanilla variants, as well as in strawberry, coffee, mocha, and peanut butter flavors.
Attack the shack
Rawley's Drive-In is hard to miss. It's the little, bright red clapboard building you'll find at 1886 Post Road. They are open Monday through Saturday from 11:00 AM to 6:45 PM. Be sure to bring cash, as they don't take credit cards here.
Would you like to know more about Fairfield and what it has to offer? To learn more about houses for sale and other real estate opportunities in Fairfield, CT, call the Higgins Group at 203.254.9000 or email Support(at)HigginsGroup(dotted)com today.