One of the most sought-after properties in Norwalk, CT, Tavern Island is the dream home of many home buyers of different lifestyles and preferences. This stunning estate is located on its very own island, which guarantees plenty of space, tons of privacy, and some of the most stunning views of Norwalk, regardless of where you're standing in the island.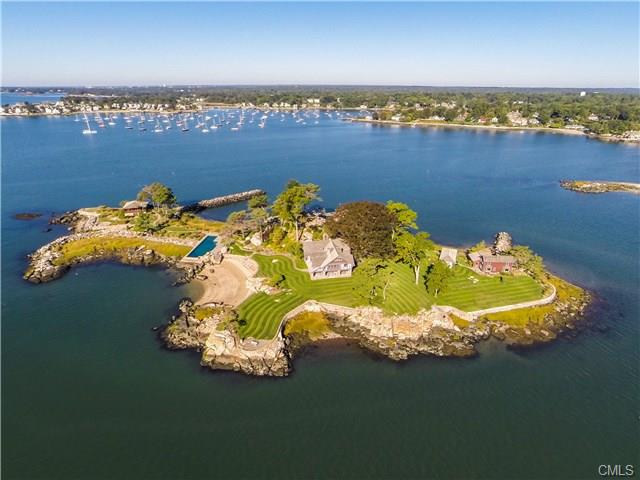 Tavern Island consists of a lovely English Colonial/Tudor home with large windows to enjoy the vistas the island offers. A guest house, complete with its own amenities, is also located within the grounds. With its private beach, protected harbor, and own piece of Connecticut history, Tavern Island, built in 1900, is one of the most unique properties in the area for sale.
Tavern Island is located in the Rowayton neighborhood. The jump-off point to the property is 75 Bluff Avenue. It is listed at $10,995,000.
Features
Exterior

Architectural style: English Colonial, Tudor
Lot size: 3.5 acres
Total size: 6,116 square feet
Prominent features:
The Tavern Island has three structures within the compound: the Main House, the Pilot House (guest house), and the Tea House, which has its own meeting room and bedroom.
Aside from its private beach, Tavern Island has a stunning gunite pool and a protected harbor with stone wall.
Every part of the property affords homeowners and guests beautiful views of the area.

Interior
No. of bedrooms: 6
No. of bathrooms: 4 full baths, 3 half bath
Kitchen appliances: Cook top, washer, dryer, refrigerator, microwave.
Rooms: Inside the main house is a variety of  rooms designed for play and rest. There is a home office, a recreation room, a workshop, a laundry/utility room, and staff quarters inside the main structure. Large windows let in ample natural light and give residents and guests unobstructed views of the property and beyond.
Make your guests comfortable at the Pilot House, which has a living room, a fireplace, a spacious kitchen, two bedrooms, and two bathrooms.
Tavern Island – Norwalk, CT Real Estate and Homes for Sale
See the beauty of Tavern Island for yourself by watching this video or contacting Rick Higgins today at 203-254-9000 or rick(at)higginsgroup(dotted)com.