The Higgins Group is pleased to introduce you to Greenfield Hill, one of the most desirable neighborhoods in Fairfield. Read on for a closer look at this high-profile community in southwest Connecticut.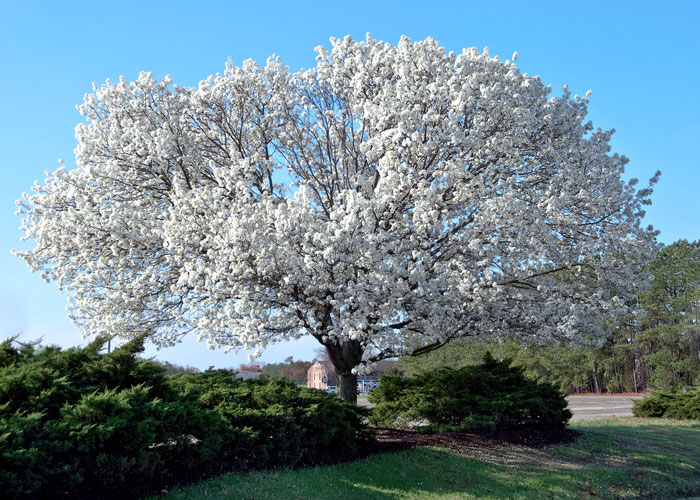 In full bloom, the dogwood tree – abundant in Fairfield's Greenfield Hill neighborhood – is a sight to behold.
The neighborhood of choice for Greater New York's upscale crowd
Greenfield Hill ranks among the wealthiest neighborhoods in the town of Fairfield, alongside Sasco Hill and Southport. It exudes an understated sophistication. Generous amounts of open space, a mature tree canopy, and a soothing sense of tranquility dominate the space, creating the perfect contrast to the hustle and bustle of the urban centers of the metropolis.
Fairfield's zoning ordinance requires properties to be at least 2 acres in size. Combine that with Greenfield Hill's thriving semi-rural features and wooded setting and it's not surprising to see why this neighborhood continues to draw luxury home buyers searching for large estates with expansive grounds.
Some of the most prominent figures to reside in Greenfield Hill include former Yale University president Timothy Dwight IV and Robert Penn Warren, who wrote the Pulitzer Prize-winning novel "All the King's Men."
Rich in history, culture, and nature
Greenfield Hill is a designated historic district, a living showcase of what life was like during the founding years of the New England region. Home buyers interested in historically significant homes will be pleased to find the occasional timeless pre-Revolutionary War era and 19th century house available among local listings.
The community itself – through the Greenfield Hill Village Improvement Society – is proactive in protecting the neighborhood's historic character, keeping commercial development minimal.
One of the most prominent landmarks here is the Greenfield Hill Congregational Church, which dates back to 1725 and has occupied its current spot since 1855.
Community activities and festivals also contribute to the preservation of the neighborhood's distinct identity. Many of the signature attractions and events in this part of town shine the spotlight on Greenfield Hill's abundant natural gifts.
There's the Dogwood Festival, for example, an annual event that takes place in the middle of spring, which celebrates one of the neighborhood's most abundant trees at the peak of their bloom. At this time of the year, the green fields on which these trees grow are transformed by blooms of pink and white. Another favorite event is the annual Pumpkin Festival celebrated at Greenfield Farm.
For most of the year, residents of Greenfield Hills can enjoy a wide range of outdoor activities at facilities like the equestrian-friendly Brett Woods Open Space and the always fascinating wildlife sanctuary at the Connecticut Audubon Center.
Are you ready to find your dream home?
Hosting approximately 2,200 households, Greenfield Hill has a warm and friendly community vibe and it won't take you long to feel right at home here.
Greenfield Hill is just one of many outstanding neighborhoods to find a comfortable and luxurious house for sale in Fairfield. Discover other Fairfield, CT real estate opportunities with the Higgins Group. Call 203.254.9000 today or email Support(at)HigginsGroup(dotted)com for more information.