Higgins Group Private Brokerage Gives Back for the Holidays 
Higgins Group Private Brokerage is feeling the holiday spirit! Throughout December, Higgins Group has found ways to give back this holiday season. Higgins Group looked to partner with organizations to facilitate an in-office toy drive and an on-site volunteering day for our teams.
Inspirica's Big Wrap
That's a Wrap! On Saturday, December 8th our Higgins Group Stamford team joined forces with others in the community to help bring holiday cheer to children in need at Inspirica's annual Big Wrap. This annual community event has been bringing smiles to children in need for the past 29 years!  What started as a response to the plight of families living with HIV/AIDS in Bridgeport, the Holiday Gift Collection ("HGC") began under the name "Bread and Roses" in 1989 and collected 250 gifts for 30 families. Since then the HGC has evolved to gather, organize and deliver approximately 6,000 personalized wrapped gifts to 3,000 children in Fairfield County affected by homelessness and poverty.
Inspirica begins their HGC the first week of November and collects through the first week of December. The names of the children in need are given to Inspirica by various agencies throughout Fairfield County that assist families. Generous donors sponsor a child's Wish Card, which is a card that contains two wishes the child would like for the holidays. The donors then return the gifts to one of Inspirica's drop off locations, that are located around Fairfield County.
Inspirica works tirelessly throughout the month of November to make sure everyone on their list receives the gifts they requested, that the gifts are age appropriate and that they contain the necessary batteries to make the gift work. The collection ends in a big wrapping party celebration called the Big Wrap. This year the Big Wrap took place on December 8th, in Inspirica's gym, which Inspirica elves turned into Santa's Workshop for a couple hours. This year's Big Wrap was made possible by the help of 300 volunteers. The volunteers included: the Mayor of Stamford, David Martin, CT State Senator, Carlo Leone, and the Higgins Group Stamford. With all the help, over 6,000 gifts were wrapped for approximately 3,000 children; this was all made possible through Inspirica's Holiday Gift Collection.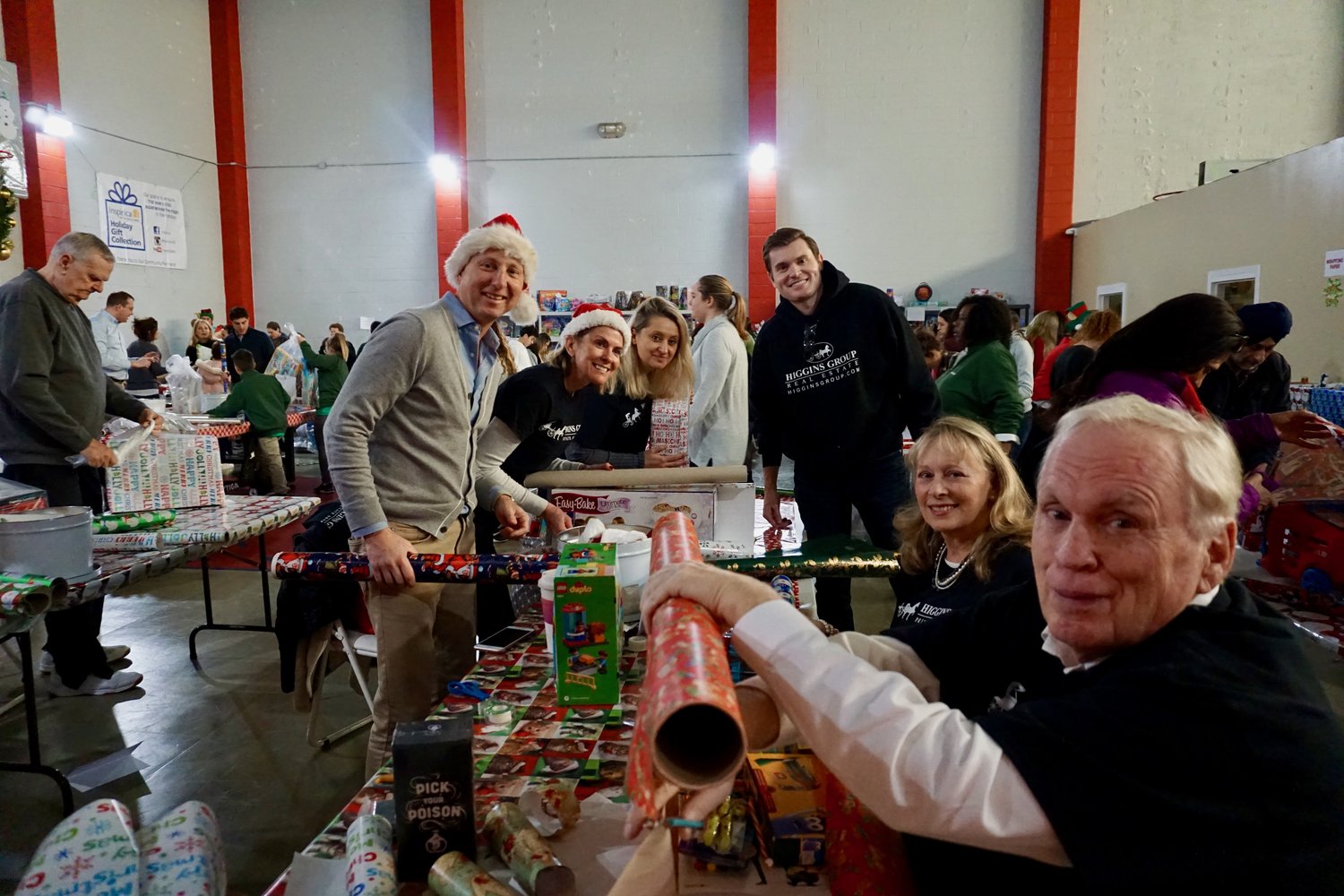 As you can see our Stamford team was so happy to be apart of this annual tradition and to help bring smiles to those in need this Holiday Season!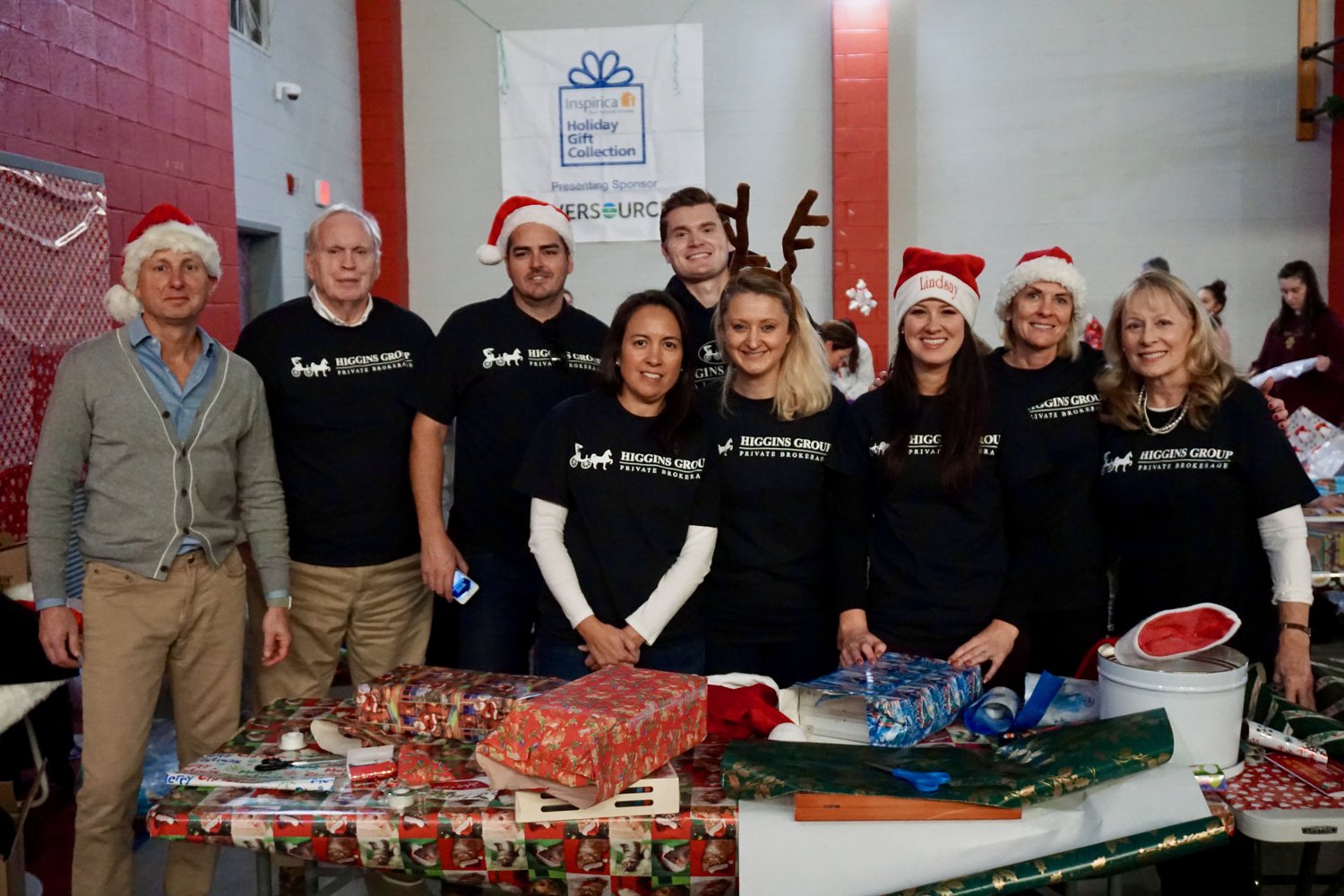 Our Stamford team with Rick, Adele and Rich Higgins at the Inspirica's Big Wrap.
To find out more about Inspirica and ways you can help 

click here

  and to view more pictures of the event visit Inspirica's and Higgins Group Facebook page. 

Click Here

to view the News Channel 12 segment about Inspirica's Holiday Gift Collection. 
Higgins Group Helps Archie Moore's in Fairfield Collect for their 13th Annual Toy Drive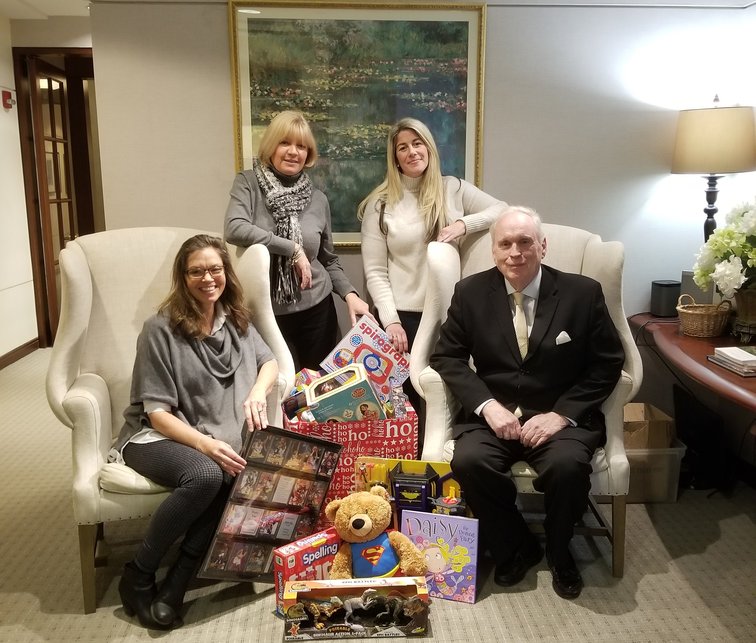 Julie Vanderblue, Leslie Manowitz, Brandy Hall and Rick Higgins
On Thursday December 13th our Fairfield Higgins Group office came together by collecting dozens of toys to donate to the Fairfield Archie Moore's 13th Annual Holiday Toy Drive. Mary Fleming, who coordinates the event every year for Archie's has done an amazing job over the last 13 years and we were honored to be able to help her reach Archie Moore's toy goal. Mary personally delivers the toys to local shelters in Stamford and Bridgeport to ensure that all the children have a very merry Christmas and also mailed a large check to St Jude's Children's hospital from donations collected!  Mary works so hard every year, she begins organizing the day after Thanksgiving by collecting raffle prizes from local Fairfield vendors for the annual Christmas party and she is constantly spreading the word about her toy collection. We were so happy to be apart of this annual tradition and to help bring smiles to those in need this Holiday Season!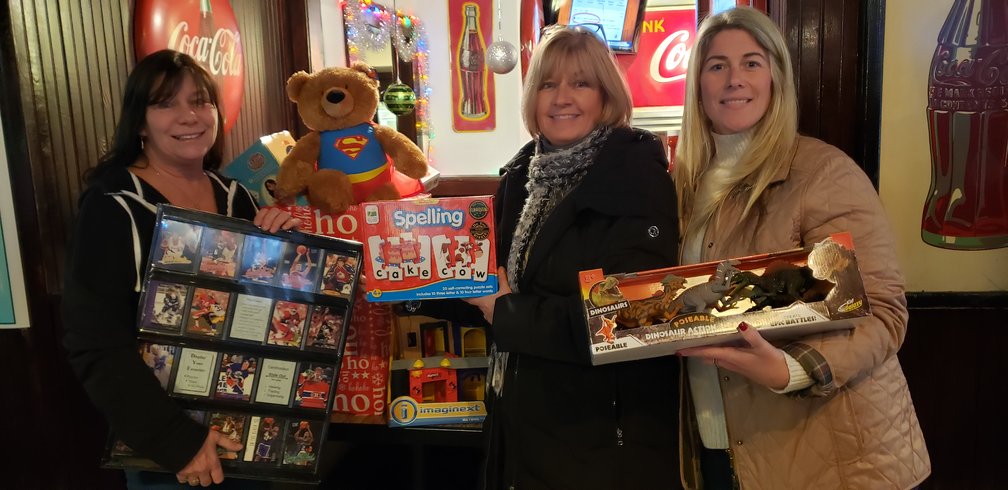 Mary Fleming, Leslie Manowitz and Brandy Hall – delivering the toy's to Archie Moores.
Giving back is what it is all about during the holidays and we couldn't do it without the great support from our Higgins Group team. Happy Holidays!