When it comes to upgrading living spaces in a home, the bathroom is one of the top two areas that homeowners often remodel (the kitchen is the other). Bathroom remodels have a significantly better return on investment than other improvements, primarily because buyers these days have a marked preference for up-to-date bathrooms.
According to the Home Improvement Research Institute, bathroom remodels rank high on the lists of improvements for homeowners, who cite the replacement of "old, worn out materials" and "upgrading outdated décor and aesthetics" as their main motivations.
Compared to a kitchen overhaul, new bathrooms are way more affordable in terms of cost. HomeAdvisor, a website listing pre-screened home improvement service providers, reports that requests for bathroom remodeling services have surged by 64% in the past year alone, and that homeowners will typically shell out $9,200 on average for professionally installed bathroom updates. Not cheap, but definitely a lot less than the average cost of a kitchen remodel, which is pegged at $19,907.
As for what types of bathroom upgrades are the most popular, here's how they stack up, along with how much they cost: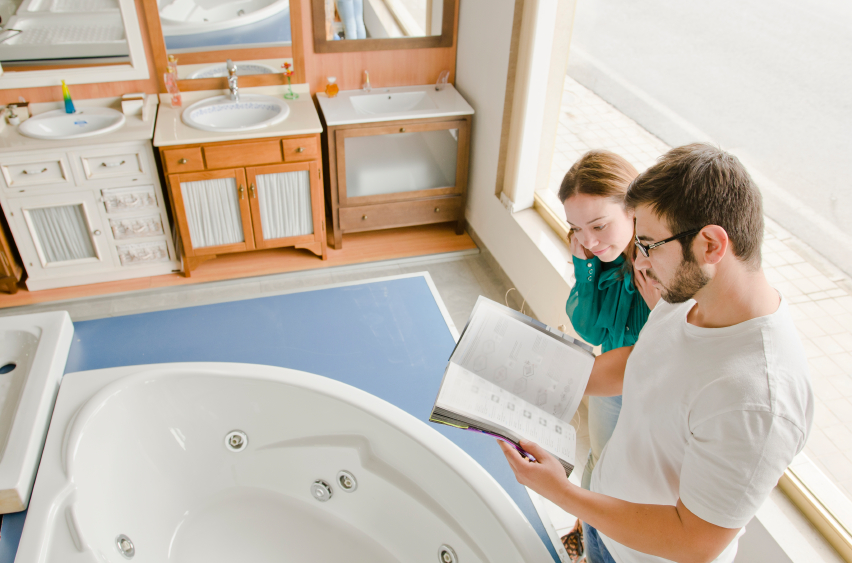 Reface cabinets
Cabinets are an essential part of a bathroom remodel, as they provide storage and also hide clutter, whether it's toiletries or first aid kits. Refacing can be quite costly, and counts as among the most expensive types of bathroom remodels, with an average cost of $6,676.
Install cabinets
The importance of storage space in a bathroom cannot be ignored, as it keeps the space neat and tidy, and depending on the creative ways they are installed, can also add to the overall aesthetic of the room. The average cost of installing bathroom cabinets is $4,633.
Install a shower
The once ordinary shower stall can now become a focal point of the bathroom, particularly with a modified walk-in design that's frameless and enclosed with ultra-clear glass, giving the space a dash of stylish luxury and a sense of open, relaxing space. The average cost for this kind of remodel is $3,169.
Install flooring
Not only does flooring immediately draw attention to your bathroom space visually, it also has a more important function in providing durability while keeping the room clean and free of germs. Options include stone tiles, hardwood floors, and heated floors that are ideal for places with colder climates. The average cost of installing flooring is $2,969.
Install a bathtub
Bathtubs come in many forms and shapes, from traditional alcove and drop-in tubs to classic claw foot tubs and the newer freestanding models. They can also be quite costly and will involve cleaning and maintenance. Average cost of this remodel: $2,849.
Install a bathtub or shower liner
Bathtub and shower liners, particularly the ones made of acrylic, are basically new skins that are installed over your existing tub or shower, promising a quick solution for making old tubs and showers look like new. This remodel, which has an average cost of $2,522, is a good alternative to refinishing or completely replacing your bathtub or shower.