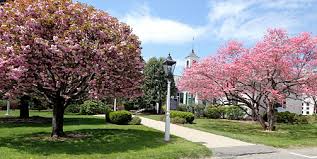 Welcome to one of Connecticut's best small towns!
Weston is located just an hour's drive from New York, a charming New England residential community that's consistently named as the most desirable place to live in Connecticut.
With open spaces galore, local establishments that cater fully to the everyday needs of residents, and genuine neighborliness, Weston promises a wonderful beginning for anyone.
Goings on about town
Weston's rural charm is not just limited to its picturesque countryside scenery. From an active arts scene, a range of recreational activities, lots of open spaces, and a commercial center which also functions as a social hub, Weston has charm and attractions aplenty. It's also easy to get actively involved in community life. The call is ongoing for residents to join the town's many leagues, clubs, and volunteer services.
The Town Center
Most of Weston's commercial establishments are located in the venerable, old Town Center. For the last 65 years, this has been the place for locals to shop, dine, and mingle with neighbors.
Here's what you'll find at The Center:
The Lunch Box
Fairfield County Bank
Weston Service Station
Weston Post Office
Lang's Pharmacy
Parks and recreation
Almost a quarter of Weston's land is devoted to open spaces.
As such, residents are spoilt for choice when it comes to parks, fields, and nature preserves. Some of them include:
Devil's Den Preserve
Bisceglie-Scribner Park
Aspetuck Land Trust (16 preserves scattered around Weston)
Lucius Pond Ordway
Events and attractions
Among the most popular of Weston's weekend markets are the:
Memorial Day Fair and Parade
The Grange Fair
Emanuel Church Fair
Norfield Church Fair
Weston Women's League Farmer's Market
Schools
Weston's excellent school system is another distinction.
Sitting on a centralized 125-acre campus are the following:
Hurlbutt Elementary
Weston Intermediate School
Weston Middle School
Weston High School
To know more about Weston, visit the official municipal website or click here.
Browse the site and find out how Higgins Group Real Estate can help you find your ideal property in Weston, CT.