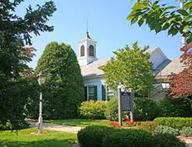 Buyers looking for a home in a beautiful rustic settingwon't go wrong with Weston.
Located in the southwest corner of Fairfield County, CT,this community is set among deep woods and rolling hills on thewestern shore of the Saugatuck Reservoir.
The Saugatuck River itself winds its way through the southern half of town.
Living in Weston
Weston is home to over 10,000 residents who wake up each day to the rural charms of this gorgeous Connecticut town.
Each day, residents go about their business sans hectic streets or frenzied crowds.
And yet this bucolic town is just around 60 minutes from bustling Manhattan in New York.
Attractions and amenities
Weston itself has enough to offer.
The Town Center is the city's commercial hub, with a bank, pharmacy, a restaurant, a gift store, and other local establishments to serve the needs of Westonites.
A quarter of the town, however, is devoted to open spaces, including Scribner Park, playing fields, and municipal tennis courts. Locals also love their country fairs, the most notable of which are held at Emanuel Church and Norfield Church.
With charms aplenty, the right number of servicesand amenities to satisfy the needs of its residents, Weston remains the top pick as Best Small Town in Connecticut for several years now.
As important, the buzz and excitement of the Big City are near enough to make Weston the best place to move to.
Homes in Weston
Single-family homes and townhomes make up the bulk of available homes in Weston.
The most common architecture style is Colonial, reflecting the historic charm unique to the state.
Typically,homes in Weston have the following features and amenities:
3 to 4-bedrooms and baths
Spacious living rooms
Updated kitchen with exquisite wood or granite countertops
High floor-to-ceiling ratios
Windows set for enhanced natural lightning
Estates, on the other hand, usually consist of:
5 or more bedrooms and baths
Luxurious master suites
Private nooks with fabulous views
Vaulted ceilings with high windows for natural lighting
Gourmet kitchen
Well-designed, free-flowing floor plans
Spacious family rooms
Generous zoning policies
Weston's bucolic charm is maintained by the town's generous zoning policies.
Buyers must purchase a minimum 2 acres for each of the town's residential and farming properties.
This zoning has resulted in Weston homes becoming true havens for their owners, who enjoy the peace and quiet of their property even as the hustle and bustle of Manhattan in New Yorkare close by.
Browse the site and find out how Higgins Group Real Estate can help you find your ideal property in Weston, CT.